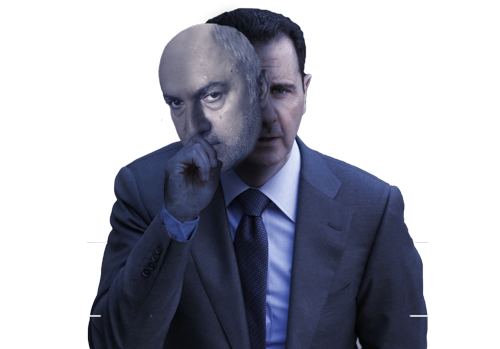 Mohammad Hamsho
Place of birth: Damascus, 1966
Jurisdiction: Businessman
Muhammad Saber Hamsho was born to a poor family in the city of Damascus in 1966. Hamsho's father worked as a storekeeper for the Ministry of Education. His mother is descended from an 'Alawi family in a village in Qardaha.
After receiving his university degree in the field of Electrical Engineering, Muhammad Hamsho began to work for a computer equipment and communications devices company owned by Mudar Hawijah, son of former director of Air Force Intelligence Major General Ibrahim Hawijah.
Hamsho's work quickly evolved, and came to involve covering up the private business activities of regime cronies. Hamsho sold computers and communications equipment to the leadership of the Syrian Air Force and Syrian Air Defense Force through a bilateral agreement. The law stipulates that all state institutions must make purchases through the auction system, but Major General Ibrahim Hawijah used security concerns as an excuse to refuse to make purchases through an auction and instead complete the deal with Muhammad Hamsho.
In addition to Major General Hawijah, Hamsho established a relationship with 'Ammar Sa'ati, calling upon him to connect Hamsho to Sa'ati's close friends, Bashar and Maher al-Assad. Hamsho also established a relationship with Maher al-Assad's office manager, Brigadier General Ghassan Bilal. Hamsho paid Bilal a 5 million pound bribe to secure an introduction to Maher al-Assad. This successful bribe enabled Hamsho to implement the first of his projects on behalf of Maher al-Assad through the Buraq Company, which is involved in land-line telephone communications and operates booths in major cities. This deal helped Hamsho establish and manage numerous companies on behalf of Maher al-Assad, including Hamsho Group for International Communications, Buraq for Advertising and Media, Middle East for Technology and Information Marketing, Sham for Engineering Studies and Contracting, Jupiter for Touristic Projects, Syria International for Technical Production.
Hamsho also became an agent for the Thuraya corporation in Syria, and was recently elected as a member of the People's Assembly. He is currently Secretary of the Damascus Chamber of Commerce and the Union of Syrian Chambers of Commerce.
Hamsho has coordinated with his brother-in-law, Raslan al-Khayyat – owner of Khayyat for Commerce and Contracting – to avoid international sanctions.
Sources claim that Muhammad Hamsho's paid armed opposition factions in Ghouta including Jaysh al-Islam, Faylaq al-Rahman, and Jaysh al-Ummah (before it was disbanded) to remove factory equipment located in areas that these factions controlled. He also coordinated the opposition's movements and efforts to smuggle goods. It eventually became clear that these activities contributed to ambushes prepared by the regime in coordination with Hamsho, who had established an array of relationships with political opposition figures in Egypt and other Arab states. These relationships enabled Hamsho to engage in a number of secret roles, including in negotiations in the 'Arsal region of Lebanon.
Muhammad Hamsho is subject to U.S. and European sanctions (which were removed and then re-imposed) because of his participation in money laundering and commercial activities on behalf of the regime. These sanctions have led to the diminution of Hamsho's activities, and to the acquisition of his businesses by the Foz and Tarazi families, especially in the fields of iron and metals.