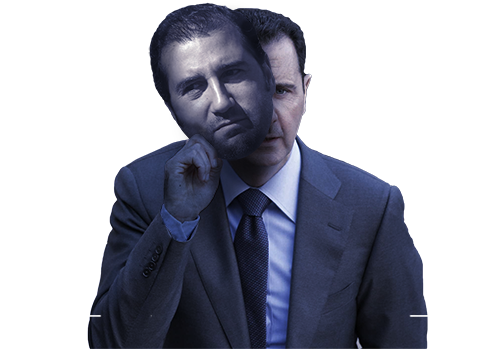 Rami Makhlouf
Place of birth: Jableh – Latakia  10/7/1969
Jurisdiction: Businessman
Rami Makhlouf was born on 10/7/1969 in the Bustan al-Basha area in the town of Jableh in Lattakia province. He is the oldest son of Mohamed Makhlouf, the brother of Anisa Makhlouf, who was the wife of Hafez al-Assad and Bashar al-Assad's mother.
Rami Makhlouf embarked on his path in corruption early, taking advantage of the commercial embargo on Syria in the 1980s to smuggle foodstuffs, electrical supplies, and industrial equipment from Lebanon and Turkey. In this, he relied on his father's prestige and influence, which allowed him to smuggle these goods without anyone troubling him.
At a later stage, Rami Makhlouf became a tobacco merchant, as his father was the director of the Tobacco Corporation, as well as the Syrian Real Estate Bank, from which he was able to secure major loans on long-term payment plans and to withdraw money through fake loans to fake individuals or facilities which had asset blocks.
Soon, he had developed private networks to smuggle cigarettes, foodstuffs, electrical supplies and other items through al-Jdayda crossings. He took control of the duty free at the Damascus International Airport through an annual contract set at just one million lira during the era of former Prime Minister Mahmoud al-Zuabi. The duty free was a launchpad for smuggling into Syria, and eventually expanded to include land crossings, ports and airports. This pushed global firms to enter into commercial agreements with Rami Makhlouf and his brother Ehab, given that they controlled everything related to foreign markets and imports. The income from these markets was no less than 300 million dollars per year.
When Bashar al-Assad assumed power in the year 2000, Rami's influence expanded. He rejected the policy of economic opening and the pressure toward a social market economy system, which had allowed a little economic freedom in Syrian markets, and became the primary business agent for the Assad family. He became the biggest beneficiary of the new policy by entering into partnerships with enormous companies run by Syrian businessmen from commercial families.
At this time, Rami Makhlouf moved to Dubai to administer his business there. He also obtained licenses granted by Bashar al-Assad to just two mobile phone companies: Syriatel, owned by Rami, and Investcom[1] , owned by Taha and Najib Mikati[2] , in which Rami held a large portion of its shares. Its profits before 2011 were about 60 million dollars.
As Rami Makhlouf became the business agent for Bashar al-Assad, Mohamed Hamshou became the business agent for Maher al-Assad. Rami Makhlouf had major influence over the appointment of Adib Mayaleh as head of the Syrian Central Bank, which withdrew a large portion of foreign deposits of the Syrian state reserves in hard currency to inside the country, as well as selling dollars to the benefit of the trader Zuhair Sahloul—Rami Makhlouf's agent.
When two members of Syrian parliament, Riyad Saif and Mamoun al-Homsi, complained about corrupt practices at Syriatel, they were arrested, stripped of their parliamentary immunity, and then sent to the court on a number of charges, including sowing sectarian strife, and then were sentenced to seven years in prison.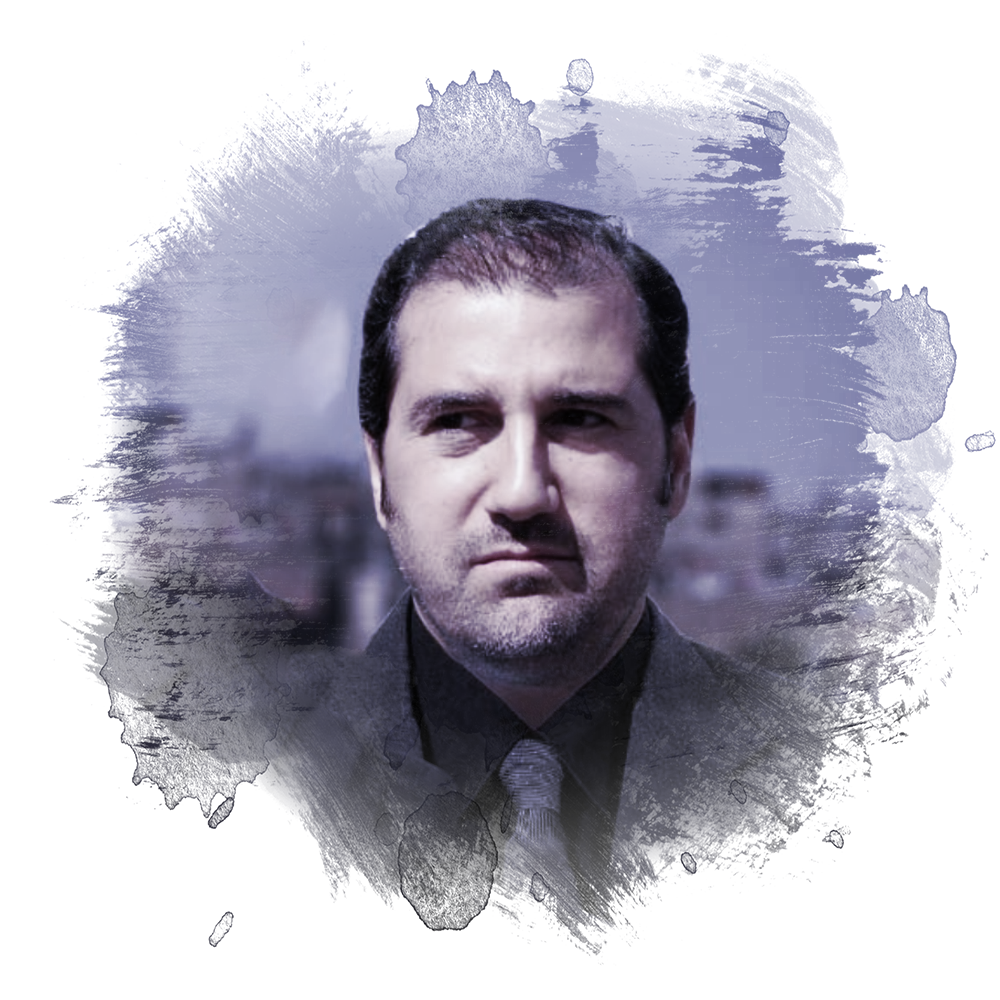 Makhlouf also worked to launder millions of dollars for Uday and Qusay Saddam Hussein from 2000 to the American occupation of Iraq through his companies in Lebanon with the Mikati and Arslan families and through Rustum Ghazaleh, who enjoyed major influence in Lebanon.
In the automotive sector, Rami Makhlouf clashed with the German company Mercedes over its exclusive agency contract with its original agent, the Sanqar company. He put pressure on international agencies to prevent exclusive agent deals on the pretext of preventing monopolies. He also became an agent for BMW in Syria and got the Ministry of Defense to buy 27,000 cars and sell them to retired officers.
He has also entered into the real estate market through the Cham Holding company, as well as in cement manufacturing and tourism through the Al-Sharq Investment Fund, of which he owns 58 percent of the shares, as well as through the Corniche Tourist Company. During this time, he bought two towers in Dubai near the Burj al-Arab hotel, registering one in the name of his wife and the other in the name of his children in anticipation of any developments that could affect him negatively. He invested with the Syrian businessman Mohamed Murtada al-Dandashi in the Emirati stock exchange, and entered with him into partnerships to buy land in Homs city.
His investments have extended into all other aspects of life in Syria. In media, he obtained the first license for a daily political newspaper Al-Watan, while he also established a number of regime websites. He has obtained a share of private banks, such as the International Islamic Bank of Syria, Byblos Bank, Baraka Bank, the International Bank of Qatar, and Al-Sham Bank, as well as the Bank of Jordan in Syria. He also has shares in insurance companies and in financial services. He established a cement factory at a value of 250 million dollars, and has obtained shares in several hotels. He obtained a license to develop the Lattakia corniche, in addition to owning Syriatel, and having a large share of the MTN company and the duty free areas at the Damascus International Airport and all border crossings.
Makhlouf also owns the Ramak Company which works in real estate and has many projects that were committed in fake bidding processes. He further owns the Cham Holding company in partnership with Imad Ghreiwati, which works in touristic investments. He has also established the Cham Wings Airline, and has worked to develop it in exchange for the gradual elimination of the General Organization of Syrian Aviation, which has come to own just one aircraft. He has pursued a similar style with all public state institutions that overlap with his commercial activities, undermining the activity of these institutions through orders directed to ministries or directors.
Rami's influence has also extended into "charitable" work, with his establishment of the Al-Bustan Association, whose activities since the start of the peaceful protests in March 2011 have turned toward supporting the regime's efforts to repress the people. Members of the group were supplied with money and weapons and helped the regime to circumvent the sanctions imposed on it through other partners and companies established in Dubai and Panama.
Through funding and supporting the gangs of the Al-Bustan Association, Rami Makhlouf is considered to be a primary partner in all the violations carried out by the regime, as well as being largely responsible for the collapse of the Syrian economy and handing it over to a limited number of his investor partners. He also had a major role in supporting the repression carried out by his brothers Ehab and Eyad Makhlouf as well as Brigadier General Hafez Makhlouf and his father Mohamed Makhlouf. Due to his role in supporting violations, Rami Makhlouf was included on the British3[3], European4[4], Canadian5[5] and American6[6] sanctions lists, while Switzerland has placed a block on all his assets and property on their territory.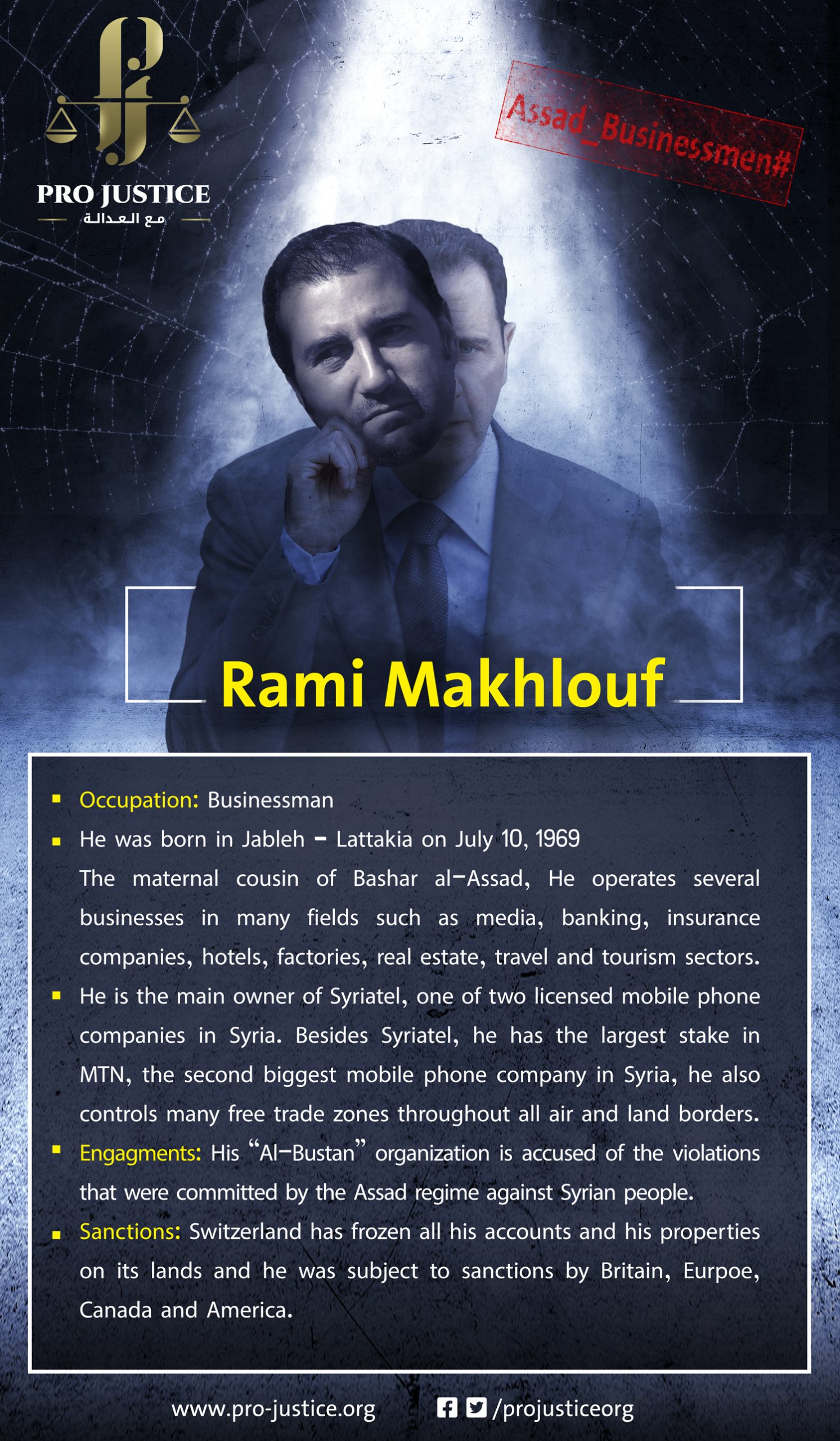 [1] Its name was changed multiple times until it became MTN
[2] The former prime minister of Lebanon
[3] He ranked 196 in British sanctions
[4] He ranked 8 in European sanctions
[5] He ranked 12 in Canadian sanctions
[6] https://www.treasury.gov/resour